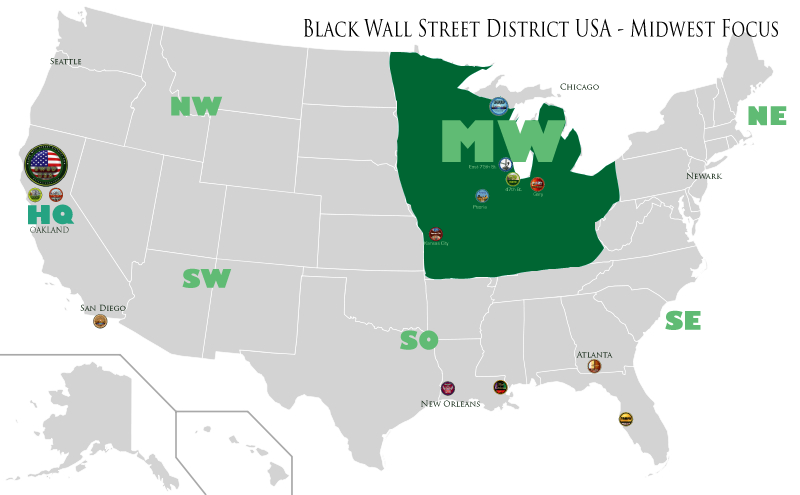 Open House: New BWS Chicago and Black Wall Street USA Midwest Regional Office
Wednesday, December 7, 2011 23:43:03
CHICAGO Black Wall Street Chicago Open House, Swearing-In new leadership of Mark Allen, Angela Williams and others Friday, December 9th. Open House for new Black Wall Street Chicago Offices and Midwest Regional Office of The National Black Wall Street USA and Swearing-In of new Executive leadership; Mark Allen, Chairman; Ernest Armstrong, Vice Chairman; Angela Williams, Executive Director; Felicia Williams, Treasurer, Ebonee Stevenson, Board Secretary; Board members and district leaders and supporters. The new Black Wall Street Chicago offices are located at 4655 South King Drive, Suite 203.
Ron Carter, Publisher and Editor of The South Street Journal Newspaper was the founding Chairman of Black Wall Street Chicago, served for five years and had to split his leadership between
Black Wall Street Chicago and sustaining the newspaper during these majoe economic challenges facing the print press finally decided to resign as Chairman to return his full time attention as Publisher and Editor of The South Street Journal, making way for Mark Allen to be elected as new Chairman.

And this new leadership team of Allen as Chairman and and Williams as Executive Director reunites them as they are both former national staff members of Rev. Jesse Jackson's Rainbow/PUSH Coalition.
Friends and supporters are requested to bring a financial donation to help the general office operational budget for this new full time office, resources and grassroots direct action advocacy and public policy for sustaining and increasing Black financial institutions, Black owned businesses and jobs in majority Black communities in the spirit of the original Black Wall Street of Tulsa.
Commenting on the new Midwest office, National President, Rev. Michael Carter, Sr. Said "We are pleased with the positive and right Spirit of the transition and new development center and Midwest office."
The Midwest region consist of nine states, they include: Illinois, Indiana, Iowa, Kentucky, Michigan, Minnesota, Missouri, Ohio and Wisconsin. There are six US regions to Black Wall Street USA, the Northeast, Southeast, Midwest, South, Southwest and Northwest.

Allen said, "We begin in the new office space that is in a building owned by a Black Owned Real Estate Company, located on historic corner of 47th & King Drive, in the historic Bronzeville community, and anchored with new Black owned businesses. Black people did it before in Tulsa with less and Black people have a Trillion dollar consumer spending power and have the absolute economic power to do more for self in resolving the desperate economic conditions in majority Black communities." Campaign that helped make this full time access possible."
The new office will assist all district leaders and members with establishing the Right Spirit in each district. It involves removing self and replacing it with the Spirit of God and of Tulsa, OK. This first step is a deal breaker. Each Midwest district leader and individual district board of directors must be in the Right Spirit.
The Midwest national staff will help districts establish a board of directors. All district directors, officers and members must be official members of the national organization. Each district Business and merchant organizer will be assisted in the creation of bylaws and articles of incorporation using the template provided by both Black Wall Street District Oakland and Black Wall Street District USA.
Donations can be made payable to Black Wall Street Chicago, 4655 South King Drive, Suite 203, Chicago, Illinois 60653
For latest news about registrations and the 3rd Annual 2012 Black Wall Street USA National Convention visit www.BlackWallStreet.org.