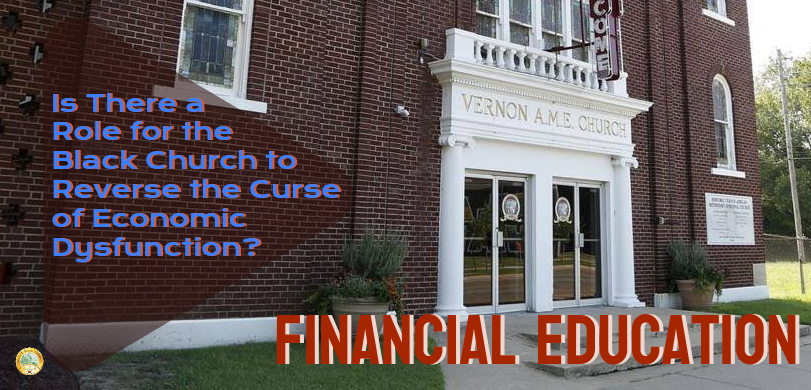 Given all the economic dysfunction that has manifested itself in the Black community over the past 40 years, it begs the question: should there be a role for the Black church in combating it? And if so, what should that role consist of?
At first glance, the dynamics of the Black church mirror those of the Black community at a time when one would think that the distinctions between people of faith and those who are agnostic or atheist would be large enough to drive a truck through sideways. Statistical research is often skewed when examining Christianity for example because the focus tends to be on the label rather than on a deeper analysis of those who are serious practitioners of their faith.
From this writer's point of view, label wearers don't count, those who are serious about putting their faith into practice on a regular and consistent basis do. What is true is that members of the Black community at large make up the Black church. So it is not surprising to find that the financial problems incurred by the Black community at large are the very same problems reflected in the church.
As the economic fallout from record unemployment, home foreclosures and declining financial resources, including wealth and income, courtesy of the Great Recession and the economic crisis left in its wake affect Black households, it is only a question of when and to what degree it will have an impact on the community at large and on the Black church in particular. Already, like a tsunami resulting from a great earthquake, a tidal wave of economic hardship is impacting Black America.
This current wave of economic hardship is gaining momentum across the country and threatening the viability of once thriving communities that have historically remained perilously on the margins between economic development and economic collapse. And it is this perfect storm of economic adversity that threatens the survival of the very institutions that Black America's dwindling financial resources support including Black churches and historically Black colleges and universities.
That said, along with the dire economic conditions detailed in the above paragraphs suggest that the time has never been more critical for the Black church to step to the forefront to advance the effort to change the economic condition of Black America.
Not since the galvanized efforts by the Black church to address the political and socio-economic condition of the Black community through the mechanism of the Civil Rights Movement of the 1950's and 60's, has the situation been more conducive to a spiritual movement to arise with such practical implications at stake. There is no question that the Black church should have the major role in reversing the curse of the Black economic condition and lead a path from financial difficulty and destitution to one of prosperity for our community at large.
Related Topics:
Financial Education: The Role of the Black Church in the Prosperity of the Black Community
Closing the Financial Knowledge Gap
The Challenge of the New Economy & the Threat of Economic Collapse
The Opportunity to Lead a New Moral Movement
Purpose: The Prerequisite to Prosperity
The Mis Education of The Negro