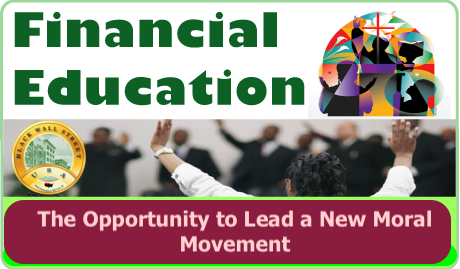 So the church having the advantage of knowing intimately well how the story goes and prophetically how it all ends has at it's minimum charge the moral responsibility to educate and prepare people for the inevitable cataclysmic outcome both spiritually and practically (i.e. financially and economically).
Ascending from the economic abyss that Black America now finds itself in the interim will be an inside-out job first and foremost, which plays directly and solely into the strength, the ability and the calling of the church and of the church alone, much in the very same way that the church functioned as the moral drum major for the Civil Rights Movement.
I refer to the inside-out job being the transformation process that must always first begin in the spirit and mind of man to eventually affect and manifest change on the outer circumstances of man such as in his finances or in his relationships.
Before the Civil Rights Movement could proceed and become effective, people first had to be taught the principles of non-violent resistance through the adoption of the biblical doctrine of Christian love.
The only place where that could be done effectively was in the confines of the Black church. Regularly, in preparation for non-violent action, churches and community leaders conducted seminars and workshops on the doctrine, tenets and ways of non-violent resistance and in the theory of its effectiveness.
In the same way, our churches today must take the lead to consistently conduct financial education seminars and workshops to combat the existing remnant of oppression that continues unabated in our communities to this day: that of financial ignorance and financial illiteracy.
Related Topics:
Is There A Role for the Black Church to Reverse the Curse?
Financial Education: The Role of the Black Church in the Prosperity of the Black Community
Closing the Financial Knowledge Gap
The Challenge of the New Economy & the Threat of Economic Collapse
Purpose: The Prerequisite to Prosperity
The Mis Education of The Negro
America Without Black People